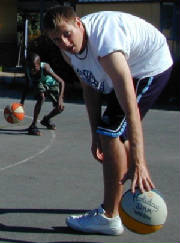 Brian McCormick is a Basketball Performance Specialist.
McCormick has traveled the world training players and teams as
the Head Coach of a professional team in Sweden a clinician in Greece, Macedonia, China and South Africa and the Technical Director of the 2002 U-18 South African Champion Western Cape team. He has worked with junior and senior national team players from South Africa, Sweden, Greece, Switzerland, Ireland, Nigeria and the United States. His articles have been published in Canada, South Africa, Italy and the United States; he has published four books and produced one instructional DVD.
B.A. American Literature, UCLA 2000
M.S.S. Sports Coaching, United States Sports Academy 2005
Performance Enhancement Specialist, National Academy of Sports Medicine 2006
Certified Strength and Conditioning Specialist, National Strength Conditioning Association 2005
Sports Performance Coach, USA Weightlifting
2005
Level I Coach, USA Track and Field 2006
Damligan (Sweden) All-Star Game Head Coach, 2003
Elite Camp in South Africa





Why Train with Brian?
Coaching style based on principles of empowerment; goal is to develop the mental and physial skills as well as enhanced kinaesthetic awareness.
Quickly identifies individual's learning style and conducts sessions appropriately.
Professional coaching experience in Europe; has elevated the level of play of players already playing at the highest levels.
Understands learning styles and motor learning development and utilizes different teaching methods with players of different ages. Ten year olds are not miniature adults and they require different instruction and drills than professional athletes.
Very specific use of language and instruction.
Individualizes drills and workouts to address each player's specific needs. There is no "McCormick Program" or "McCormick Workout."
Experience training posts, wings and point guards.
Offers recruiting advice and help through network of contacts.
Mindful of overtraining, periodization and peak performance training.
Trains all facets of the player: psycholgical, athletic, technical and tactical.
Understands and relates well to the athletes.





Brian McCormick Interviewed by Ryan McNeill of HoopsAddict.com, July 2007
Brian McCormick Interviewed by Ryan McNeill of HoopsAddict.com, March 2007